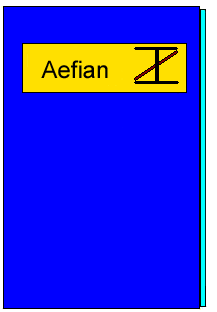 Aefian is a language spoken in Aef. It is not spoken as often as English. It is the third language that Goldas' commonly uses, alongside English and Japanese. It uses the Latin alphabet (ABCDEFGHIJKLMNOPQRSTUVWXYZ).
Verbs are actions.
Believe = Tureak
Think = Kon
Cured = Heacs
Find = Lee
Invite/Invites/invited = Weiviten
Prepared = Bapradeh
Make, craft, create = Ake
May = Deh
Mine, Dig = Gid
Live = Levga
Adverbs are any word that modifies any part of speech other than a noun.
No = Nah
Yes = Yea
Maybe / so-so = corah-corah
will = lizap
Adjectives
Edit
Adjectives describe nouns.
Black = Bluck
Blue = Skea
Brown = Crisurouskea
Green = Trek
Grey = kuree
Orange = Orang
Pink = Dob
Purple = Dop
Red = Crison
White = Puree
Yellow = Yero
Strong = Heah
Nouns are a person, place, thing, or idea.
Brother = Turgal
Courage = ilk
Cure = heac
Death = Da'k
Father = Da-ma
God = De-et
Library = Knowlace
Home = Resot
Lava = Pyroc
Life = Liger (Rymes with "Tiger")
LMFAO = Lolutt
Minecraft = Gidake
Mother = Mara
Name = Namie (Nam-I-Eh)
Pig = Pih
Power = Gorf
Sickness/Iilness = Iskess
Silence = Selenk
Sister = Blergal
This = theine
Knight - Naught
Translation = Changeth
Video, Recording = Vid
Way = Moap
Wiki = Dase
Wisdom = Za'da
YouTube = Thouvid
Elements
Edit
The eight Elements
Fire: Blaze
Water: Engen
Wind: Aerius
Earth: Ga'in
Light: Saran
Darkness: Klane
Nature: Re
Technology: Biol
One = In
Two/Too/To - Cri
Three - Vi
Four - Tai
Five - Cei
Six - Pai
Seven - Boi
Eight - Sti
Nine - Bei
Ten - Ghi
Eleven - Ghi in
Twelve - Ghi Cri
Twenty - Cri Ghi
Thirty - Vi Ghi
Fifty - Cei Ghi
Fifty-one - Cei Ghi In
One-Hundred - Doi
One-hundred and seventy three - Doi Boi Ghi Vi
900 - Bei Doi
1000 - Twin
8000 - Sti Twin
8001 - Sti Twin In

Alternatively, anything over Eight thousand is called a Vegap

9000 -  Bei Twin 
9001 - Bei Twin In

Alternatively, anything over Nine thousand is called a Vegeng
Parts of speech
Edit
How = Eh
Are = R
Your = Thy
You = thou
Meet = Etam
The = Teh
And = Ush
My / The = Teh
Meeting = Gathem
Is/I/In/me = Iz
Don't = Nodt
Of = fo
Be/by = Beb
That = iat
Spelling terms
Edit
Oe : referencing something magical
Naught: means "Knights/Knight of". Is placed after a word to make it a Knight of something, for example, Pihnaught/Pignaught would be Knight/s of Pigs.
Aefian words (not in our dictionary)
Edit
Rutoh : Describes a girl who wears very little and likes water.
Sentences
Edit
By brother = Teh turgal
My name is = Teh namie iz
Life and Death = Liger ush da'k
How are you? = Eh r thou?
May you find your way home = Deh thou lee thy moap resot
May your Iilness be cured = Deh thy Iskness beb heacs.
When writing in Aefian, instead of using English script, somethimes people use characteristic symbols.
For example, Death (Da'k) is written " |t ", but the | is shorter. (Its hard to write these special symbols without pictures!) Each symbol has some similarities to the actual object, similar to Japanese script (Or Mandarin. It can be easy to get those two mixed up). For example, the symbol for Da'k (Death) is a picture of a man holding a head ( the "t" is the guy.)
Da'k = |t
Mother = AA
Community content is available under
CC-BY-SA
unless otherwise noted.